Who are QB Tech?
Qbtech is the global market leader in ADHD tests. They provide the only ADHD tests that are both CE marked and FDA cleared for use as an aid in the assessment and treatment evaluation of ADHD for people aged 6 to 60 years old. Qbtech believes that ADHD care is transformed through the provision of objective, unbiased data to professionals, giving them a better view of ADHD.
What is a QBCheck?
QbCheck is an FDA/TGA cleared and CE marked online ADHD test that supports early identification, assessment and treatment of ADHD, for individuals aged 6-60 years old. It is a computer-based test that objectively measures the core signs of ADHD: Hyperactivity, Impulsivity and Inattention.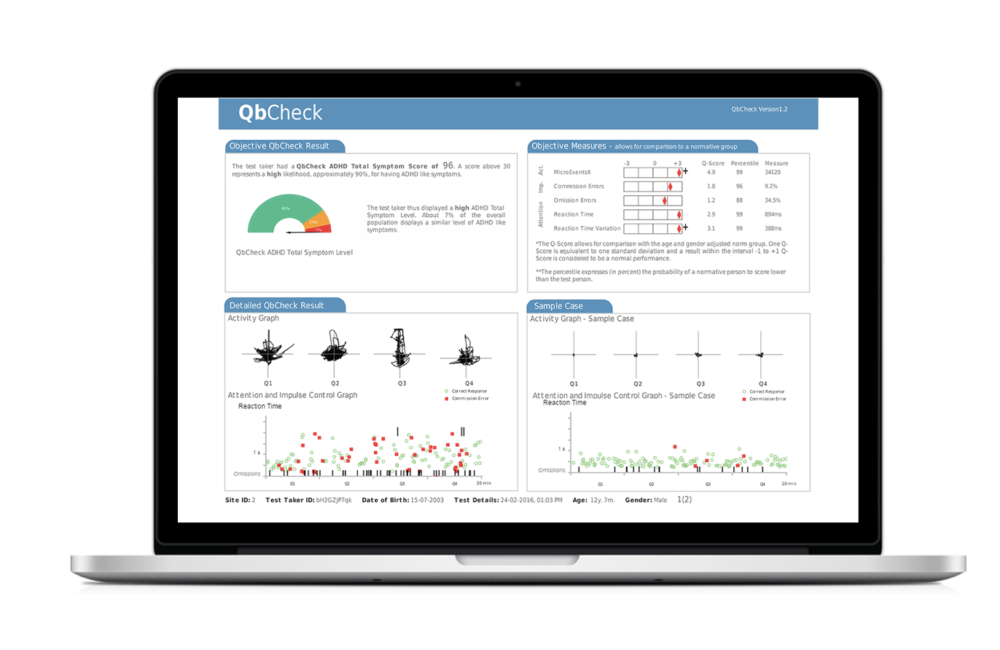 QbCheck combines a computer task with breakthrough facial recognition technology. During the test an individual presses a button to respond to targets and his or her motor activity is registered by the camera. No images are captured during the test. The test will take either 15 or 20 min depending on the individual's age, and it is advised to allow additional preparation time (e.g. set up, instructions, etc).
To get an objective view of the symptoms, it is important to evaluate an individual in the correct context. In QbCheck this is achieved by comparing the test taker's symptoms to the performance of groups of people of the same age and gender, with and without ADHD respectively.
Visual Reports that Put Performance Into Right Context

QbCheck

After a finished test, the result is instantly analysed and compared to the result of two groups of people, of the same age and gender as the test person, one with and one without ADHD. The results will be explained to you and the report given to you at the end of the session.
The whole session should not take longer than an hour and a half.
For more information please contact us on
hello@differentmindsuk.co.uk
Why a QbCheck?
We offer a QbCheck on site for your convenience. It is efficient, cost effective and adds objective data to your ADHD referral evidence. It gives a performance comparison to people of the same age and gender as the test taker both with ADHD and without ADHD. Most importantly, with the current wait for services, it gives you the reliable data to strengthen your referral to the neurodevelopmental (NDD) pathway.
What will I need for the test?
Our QBCheck practitioner will bring all that is required to administer the QBCheck but please note the requirements below.
Room requirements
The room used for testing should have:
A stable table suitable for your device
Blinds or curtains that block out direct/bright sunlight and any outside distractions
A stool without back or arm support and not on wheels that cannot be locked for individuals aged 6-11 years
A chair with back-support but no arm support and not on wheels that cannot be locked for individuals aged 12-60 years
Enough space for the practitioner to be seated in the room near the individual taking the test.
Other requirements to take into consideration are:
Consent: If an individual is under the age of 18, parental / guardian consent is mandatory to start the test. If an individual is 18 years or above, he or she should provide consent.
It is advised that a test administrator observes the individual during the test, where possible.
For more information please contact us on
hello@differentmindsuk.co.uk